Menu Options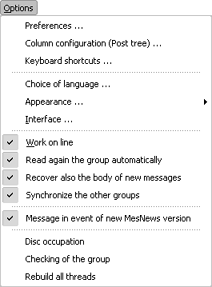 Index menu Options :
Preferences : properties of MesNews : colors of the messages, security, views, sounds etc.
Column configuration (posttree) : choice of the columns in the posttree.
Keyboard shortcuts : via this menu you can set the Keyboard shortcuts -
Choice of language : Choice of the language
View : a sub-menu that gives you different parameters to set the view of MesNews.

Windows XP components format : when ticked the keyboard keys and pointable zones get a Windows XP look (buttons less embossed)-
Flat menu style : auto / enabled / disabled : management of the relief van de menu's.-
Default : shows the menu's with default view.
The other sub-menu's let you change the view of the menu's and toolbar.

Interface : choice of icons of the different buttons. -
Work on-line/off-line : when this option is ticked then MesNews can send and read groups of server. Otherwise you are working without server, without being online. You have to go back online (by ticking this option) to get access to the groups. The 4th icon of the toolbar has the same function.
Read again the group automatically : when ticked the chosen group is often checked to see if there are new messages available. The frequency you can set in the menu Preferences.
Recover also the bodies of the new messages : when this option is ticked MesNews will get the bodies of new messages when you open a group automatically. When this option is not ticked you have to select the messages to download the body
Synchronize the other groups : when this option is ticked the groups you set a synchronization method for will be periodically scanned by MesNews. When not ticked they will not be scanned. -
Message in event of new version of MesNews : when ticked MesNews will warn you that there is a new version and will be keeping displaying this as long you haven't downloaded the new version. When not ticked you never get a message to let you know. -
Disc occupation : shows a screen to show you how much room on disk been used by all the groups of MesNews.
Checking of the group : scans the loaded messages and checks there storage. A message warns you if there was a problem found and asks if you want to repair it.
Rebuilds all threads : forces MesNews to rebuild all threads. Because that already happens automatically the use of this menu is rare.
(index)(menus)